TETRATHALON 2022
Tetrathalon follows on from minimus for members over 12  years of age and consists of Shooting, Swimming, Riding Cross Country and Running. Teams are not mixed.The IPC Tetrathlon Championships 2022 will be held on 13th & 14th August 2022 at Killossery Stud, Swords(TBC).
In 2021, Jed Collins came second overall in the Junior Tetrathalon.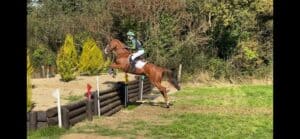 Swimming/Running/Shooting Training: Swimming training has commenced in the National Aquatic Centre on Saturday evenings(7-8pm). Please book in on the PAY/BOOK ONLINE section on the home page – itsplainsailing.
Running & Shooting Training will commence when the evenings get brighter but members should be encouraged to practice their running at home.
Hunter Trails organised by local Hunts will commenced in early March and members are encouraged to try and do as many of these as they can to give the children confidence in a competition setting.
Most of the fun minimuses listed on the minimus page also run fun tetrathalons on the same dates. We will keep our website uptodate on these activities as information arises.
Members who wish to represent Ireland at Tetrathalon competitions will find information on the Irish Pony Club Website.
For further details on training please contact, Geraldine McCann.
See also https://irishponyclub.ie/images/pdf/2020/rulebooks/ipc-tetrathlon-rulebook-2020.pdf